Dougal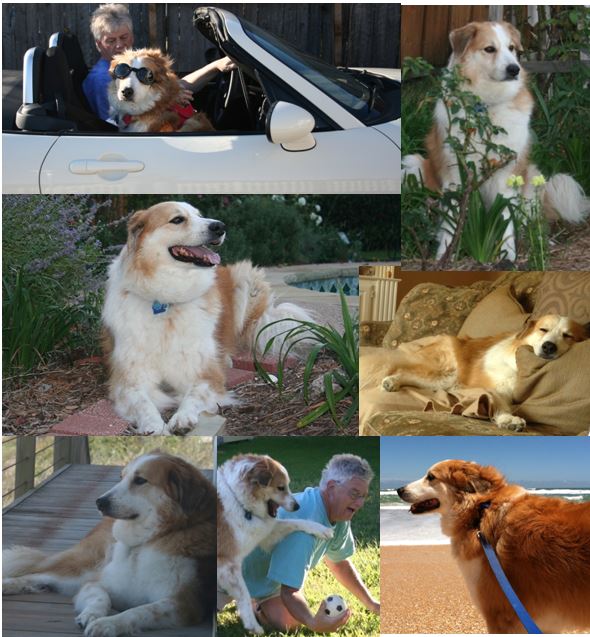 2003-2016
Tinker
Near this spot are deposited the remains of one who possessed beauty without vanity, strength without insolence, courage without ferocity, and all the virtues of man, without his vices. This praise, which would be unmeaning flattery if inscribed over human ashes, is but a just tribute to the memory of Boatswain, a Dog. ~George Gordon, Lord Byron, "Inscription on the Monument of a Newfoundland Dog"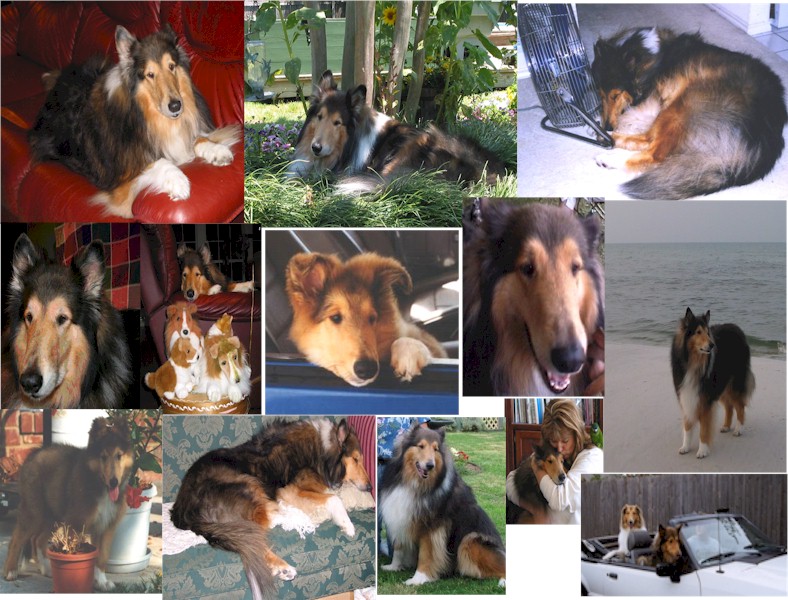 1995-2006
If a Dog Be Well Remembered
by Ben Hur Lampman
from the 1925 Portland Oregonian

We are thinking now of a dog, whose coat was flame in the sunshine and who, so far as we are aware, never entertained a mean or unworthy thought. This dog is buried beneath a cherry tree, under four feet of garden loam, and at its proper season the cherry strews petals on the green lawn of his grave. Beneath a cherry tree or an apple or any flowering shrub of the garden is an excellent place to bury a good dog. Beneath such trees, such shrubs, he slept in the drowsy summer or gnawed at a flavorous bone or lifted head to challenge some strange intruder. These are good places, in life or in death. Yet it is a small matter.

For if the dog be well-remembered, if sometimes he leaps through your dreams actual as in life, eyes kindling, laughing, begging, it matters not at all where the dog sleeps. On a hill where the wind is unrebuked and the trees are roaring, or beside a stream he knew in puppyhood, or somewhere in the flatness of a pastureland, where most exhilarating cattle graze. It is all one to the dog and all one to you, and nothing is gained and nothing is lost -- if memory lives.

But there is one best place to bury a dog. If you bury him in this spot, he will come to you when you call -- come to you over the grim, dim frontiers of death, and down the well-remembered path, and to your side again.

And though you call a dozen living dogs to heel they shall not growl at him, nor resent his coming, for he belongs there. People may scoff at you, who see no lightest blade of grass bent by his footfall, who hear no whimper, people who may never really have had a dog. Smile at them, for you shall know something that is hidden from them, and which is well worth knowing.

The one best place to bury a good dog is in the heart of his master.
Beau by Jimmy Stewart
He never came to me when I would call
Unless I had a tennis ball,
Or he felt like it,
But mostly he didn't come at all.
When he was young
He never learned to heel
Or sit or stay,
He did things his way.
Discipline was not his bag
But when you were with him things sure didn't drag.
He'd dig up a rosebush just to spite me,
And when I'd grab him, he'd turn and bite me.
He bit lots of folks from day to day,
The delivery boy was his favorite prey.
The gas man wouldn't read our meter,
He said we owned a real man-eater.
He set the house on fire
But the story's long to tell.
Suffice it to say that he survived
And the house survived as well.
On the evening walks, and Gloria took him,
He was always first out the door.
The Old One and I brought up the rear
Because our bones were sore.
He would charge up the street with Mom hanging on,
What a beautiful pair they were!
And if it was still light and the tourists were out,
They created a bit of a stir.
But every once in a while, he would stop in his tracks
And with a frown on his face look around.
It was just to make sure that the Old One was there
And would follow him where he was bound.
We are early-to-bedders at our house--
I guess I'm the first to retire.
And as I'd leave the room he'd look at me
And get up from his place by the fire.
He knew where the tennis balls were upstairs,
And I'd give him one for a while.
He would push it under the bed with his nose
And I'd fish it out with a smile.
And before very long
He'd tire of the ball
And be asleep in his corner
In no time at all.
And there were nights when I'd feel him
Climb upon our bed
And lie between us,
And I'd pat his head.
And there were nights when I'd feel this stare
And I'd wake up and he'd be sitting there
And I reach out my hand and stroke his hair.
And sometimes I'd feel him sigh
and I think I know the reason why.
He would wake up at night
And he would have this fear
Of the dark, of life, of lots of things,
And he'd be glad to have me near.
And now he's dead.
And there are nights when I think I feel him
Climb upon our bed and lie between us,
And I pat his head.
And there are nights when I think
I feel that stare
And I reach out my hand to stroke his hair,
But he's not there.
Oh, how I wish that wasn't so,
I'll always love a dog named Beau.
When God Made the Earth and Sky
When God made the Earth and sky,
The flowers and the trees,
He then made all the animals,
And all the birds and bees.
And when his work was finished,
Not one was quite the same,
He said, "Iíll walk this earth of mine,
And give each one a name."
And so he traveled land and sea
And everywhere he went,
A little creature followed him,
Until its strength was spent.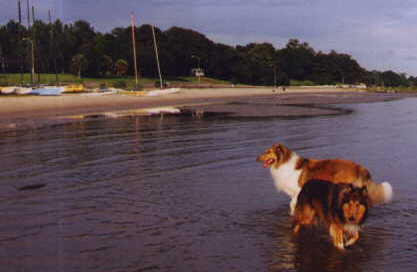 When all were named upon the earth,
And in the sky and sea,
The little creature said, "Dear Lord,
Thereís not one left for me."
The Father sniffed and softly said,
"Iíve left you Ďtil the end.
Iíve turned my own name back to front,
And called you Dog, my friend!"